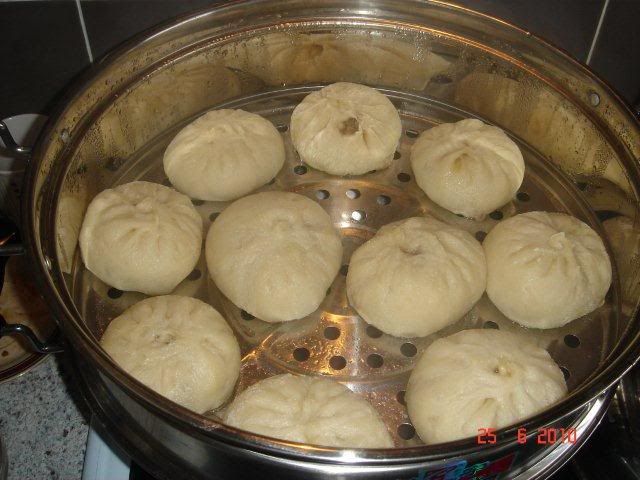 Ok this feels quite weird coz I feel it easier to write it in Chinese....
One of the reasons I bought a bread maker is because I used to make all Chinese buns by hand and now I can't due to my physical problems that come with pregnancy. I'm so used to eat Chinese buns that I can't discontinue eating them. And I can't stand the ones bought from the Chinese grocery shops. Then I heard (well, read from internet) bread makers can make doughs that I can use to make Chinese buns. So I decided to give it a go.
After experimenting with a few bread loaves, I'm a bit familiar with how the machine works and after reading a few (very limited) recipes and tutorials on internet, today I tried to make my first batch of Chinese buns.
I should have started with the unstuffed buns (which is a lot less work!) but I went greedy and tried stuffed buns instead.
I tried this recipe, which I derived from a recipe from internet:
1tsp dry yeast
380g plain flour300ml water
I dumped everything into the bread maker and set basic - dough cycle which takes 2 hours 20 minutes.
For the first time I saw how the kneading works (all the bread loaves were made overnight so I couldn't see the process). It was very interesting.
During these over 2 hours, I prepared the stuffing. It's the most common traditional Chinese buns stuffing, basically from what I have in the fridge/freezer:
lot 1: some beef mince thawed, mixed with some soy sauce, cracked black pepper and oil
lot 2:
some Chinese cabbage finely chopped
a bit of ginger finely chopped
some shallots finely chopped
I never measure these ingredients because my mom and grandma never taught me how to. Every time we just put in however much we feel like. Basically the meat mince and the veggies (eg Chinese cabbage) are the main ingredients and all others are just for flavours.
We never measure the ingredients for the dough either but I thought for a bread machine I'd better be careful so I referred to a recipe online.
Anyhow before the dough was ready I mixed the lot 1 and lot 2 together to get ready for stuffing. You don't mix them beforehand because the water will come out of the veggies once they get in touch with salt, and there's salt in soy sauce. I don't want to stuff soup into my buns. I just can't.
When the dough was ready I was a bit confused what to do, because the dough turned out too soft. I guess it's normal for a bread dough, but I don't want a too soft dough for Chinese buns. I guess next time I'll try less water or less yeast or both less.
I started kneading the dough again trying to get some flour in it to make it harder but soon I got tired (reason why I needed a bread maker!) so I gave up and just used what I had to make the Chinese buns.
It's a cold day today so I thought I'd try my friend's tip for the second proofing after the buns are stuffed. His tip is to put the buns into the oven under 50 degrees. It was hard to figure out how high the temperature was in the oven and by the time I realized it was steaming hot it was too late. The buns grew very fast and they became dry and started to crack.
When I transferred them into the steam pot they were quite out of shape already. I really shouldn't have used the oven to proof.....maybe next time preheat the oven and test the temperature before I put in the buns and turn off the oven and let the left-over heat proof the buns.
Anyway after steaming in the steam pot for 10-15 minutes, the buns were ready. And probably because they were too soft or the trays weren't greased enough, most of them were stuck on the trays and when I tried to get the off they broke. Only two of the 13 buns were inact.
They tasted nice though. Just a bit 'over-proofed'. These 13 buns are medium sized, probably serve 2-4 people depending on how hungry they are...
Lessons learned. Here's my plan for my next batch:
1. making dough
1tsp dry yeast
500g flour (was 380g)
350ml water (was 300ml)
2. preparing stuffing: mix meat and veggies 10 minutes before dough is ready
3. second proofing:
Choice 1: proof the traditional way: under room temperature. May take longer.
Choice 2: preheat oven to 50 degrees before mixing stuffing. When buns are made, try temperature in oven by hand and if ok put buns in covered with piece of cotton cloth. Watch after every 10 minutes.
4. steaming: GREASE the trays with plenty of oil, or use muslin or corn wraps (the leafy like thingy that wraps corns) to cover trays before putting on buns.