This turned out to be my last batch today. I was thinking of making more batches but I got too tired after about 4 hours straight working in the kitchen.
I used only egg yolk and a tiny bit of water as the glazing. I don't see much difference. I guess it's a little bit more yellow/golden? I don't really care much about the glazing. I can live without it. I care more about the taste and texture. Hehe.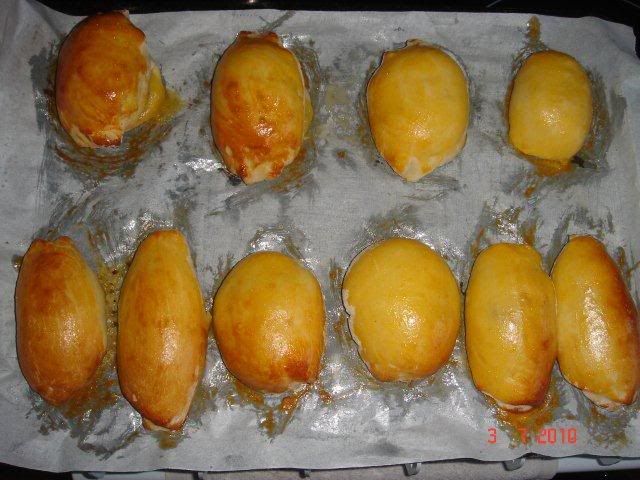 This batch is simple, just two types of fillings: ham and cheese, italian herbs and cheese. I say it's 'improved' because during
the last batch of pizza dough bread rolls
I found the dough was too soft to my standard. So I added a lot more flour in the recipe. Here's the new recipe for this batch:
'Pizza'-'Dough' (45min)
Dry yeast 1 tsp
Plain flour 550 g (instead of 475g in the original recipe)
Salt 1 tspDry milk 1 tbsp
Sugar 1 3⁄4 tbsp
Olive oil 20g (2tbsp)
Water 330 ml
The dough turned out to be a lot more comfortable to handle. It felt more like the Chinese bun doughs I would normally hand knead. I guess next time I can even put in more flour.
As this time I have more volume to play with, I used part of the dough to try steamed Chinese buns again. DD likes the tiny Chinese buns DH buys from the shops. So I designed these tiny rolls for steaming.I simply rolled out a piece of dough and spreaded some oil and salt on and roll it up and then cut the roll into tiny bits. Then I put them into the steam pot and turned on the lowest heat for proofing.
After about 15 minutes I turned up the heat to steam for about 10 minutes.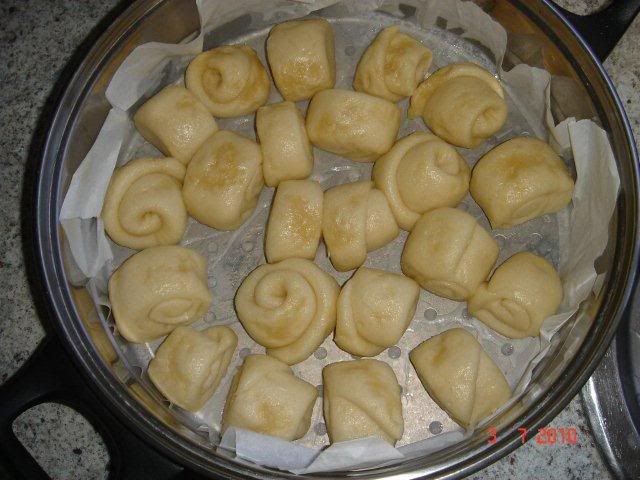 The bread rolls were still proved in the oven with a bowl of water for 15-20 minutes and then baked under 170 degrees for about 15 minutes.
Here's a photo of how I make the ham and cheese rolls: