Chives and eggs filling is one of the most popular fillings that we as Chinese love. DH bought some chives and I didn't have many ideas of how to cook them. Lucky we had a lot of eggs at home so I started making steamed buns with them.
The recipe for the fillings is super easy. Maybe the easiest among all the fillings.
2 bunch of chives
6 eggs
salt and oil
1. Heat a little bit of oil in frying pan and cook the eggs:
2. Cut the chives:

3. Mix the chives with some oil in a big bowl (DO NOT put in salt yet!):

4. Right before ready to fill the buns, mix the chives, eggs and some salt(try to mix chives with anything with salt as late as possible as salt will get the water out of the chives and will make it difficult to fill):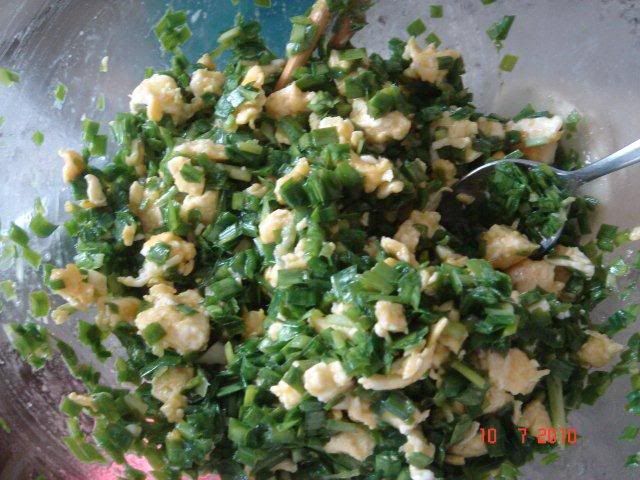 Then I filled the buns: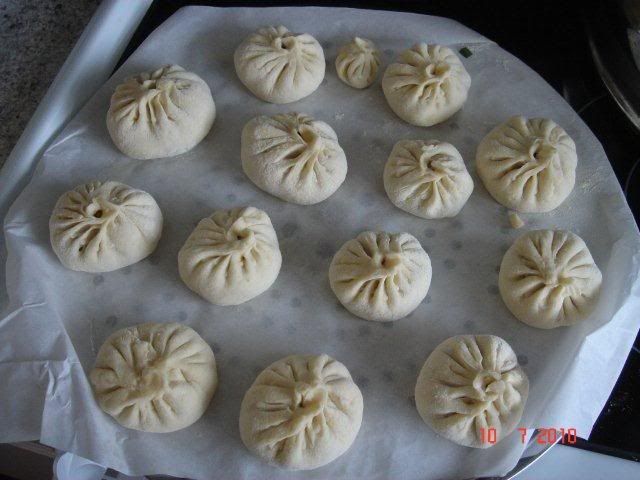 And put the steamer on the lowest heat for about 15 minutes for proofing, then turn up the heat to highest for 10 minutes and viola we can eat!
I used the same recipe that I've been using for these buns.
'Pizza'-'Dough' (45min)

Dry yeast 1 tsp
Plain flour 500 g
Polenta 50g
Salt 1 tsp
Dry milk 1 tbsp
Sugar 1 3⁄4 tbsp
Olive oil 20g (2tbsp)
Water 330 ml