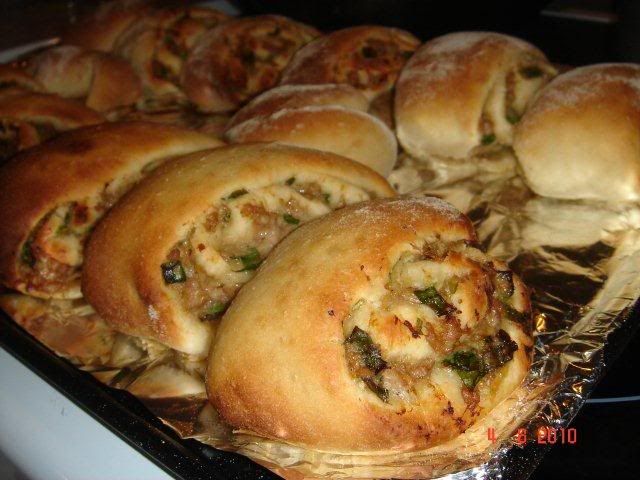 Did I forget to blog these pork mince rolls?
They were even more delicious than the
beef mince rolls
.
Here's the recipe (still based on the pizza dough recipe and similar to the beef mince rolls):
'Pizza'-'Dough' (45min)
Dry yeast 1 tsp
Plain flour 500 g
Wheat germ 50 g
Salt 1 tsp
Dry milk 1 tbsp
Sugar 1 3⁄4 tbsp
Olive oil 20g (2tbsp)
Water 330 m
Fillings(you can use whatever amount you feel like):
Pork mince about 330g
Shallots about 2 cups
Soy sauce about 1/3 cup
some salt to season
some oil
Roll out the pizza dough to a thin layer and put fillings evenly on the layer and roll it up. Cut into pieces and proof before baking at about 220 degrees until golden.
This pork mince roll is very similar to the beef mince rolls in the way I make them. But I find pork mince is softer than beef mince after cooked and I like it soft.