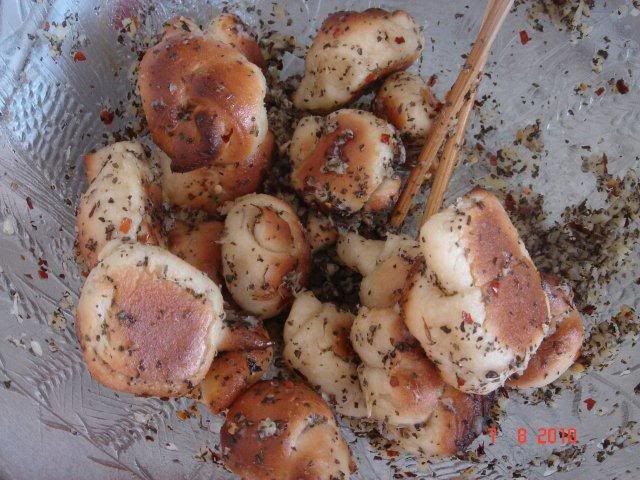 I saw
Jimmbo's garlic knots recipe at allrecipes.com
and decided to try it as both me and DH love garlic flavour. I recently fell in love with allrecipes.com and have collected 91 recipes so far. The good thing about this website is I can search recipes, sort them by rating and collect the highest/most rated recipes. All these recipes should be bulletproof, I mean, should never fail. I've tried
the granola bars
recipe and got really good feedback from DH and my colleagues. And today I tried this garlic knots recipe and both DH and I loved them.
Of course I didn't follow the recipe exactly as I didn't have exactly the same ingredients it calls for. So below is my version today:
880g Pizza dough using my bread machine as usual (I added about 25g wholemeal flour on top of the pizza dough recipe from my manual)
1/3 cup olive oil
1 head garlic crushed (I didn't know how to measure 6 tbsp but I guess 1 head is about it)
some shredded cheddar cheese finely chopped (I didn't have pamesan cheese or grated cheese so I used the shredded cheddar cheese in the fridge and chopped it. And I don't know how to measure 5 tbsp shredded cheese so I estimated)
3 tbsp dried basil (again I don't have fresh parsley...)
1 tbsp crushed dried chilli (it should have been 1tsp but I overlooked so put in more by mistake)
1 tsp salt
Below are some photos as I went...
Garlics:
Chopped cheese:
Dried chilli and basil: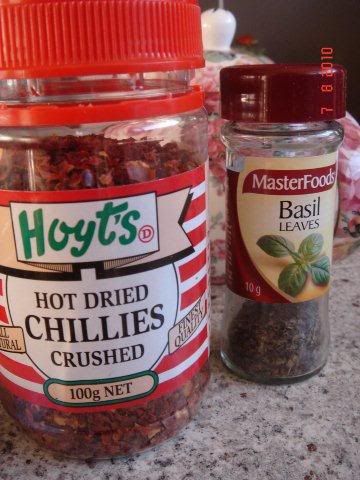 Strips to make knots: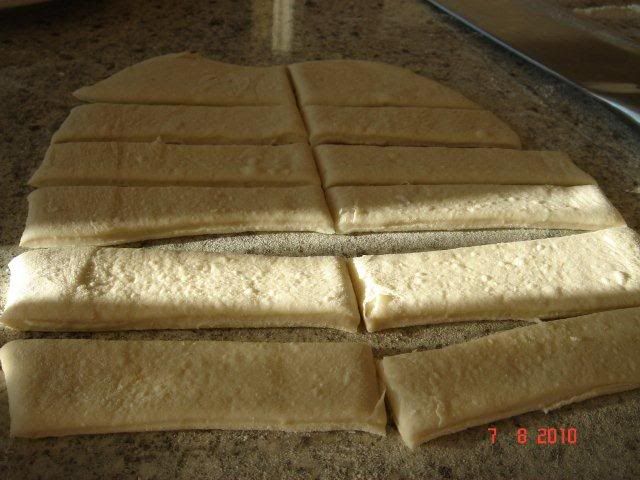 43 Knots:
The recipe says 24 knots, and I made 43 (coz I had a lot more pizza dough) so I used 24 to make the garlic knots and the rest I put in some olive oil, sugar and cinnamon to make cinnamon knots. They're delicious too!
DH and I don't quite like chillis so next time I make them I'll omit the chillis.